Greeting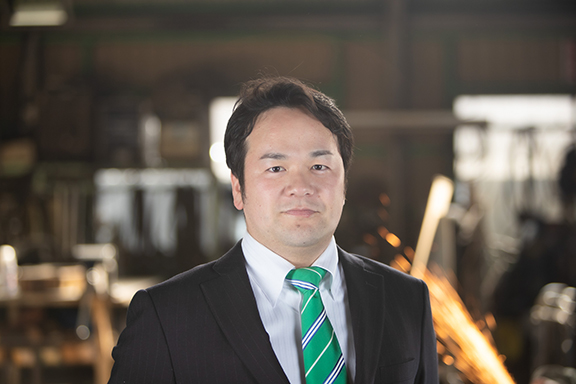 Since its founding in 1952, Tanaka Seisakusho Co., Ltd., as a partner of
machine tool manufacturers with Japan's prominent technological capabilities,
has been working with end users and machine trading companies to
manufacture and provide chip conveyors and coolant processing equipment.
We have progressed toward development.
Also, what should be to be trusted as a chip conveyor manufacturer, what
should be the customer's needs, and what is it about to deal with customers
with sincerity? It can be said that it was half a century of pursuing the ideal
form of Tanaka Manufacturing.
Along with our new start, the TNK Spirits is a code of conduct that spells out
the "thoughts" that we have valued since our founding to the present.
In the present and future when the concepts of manufacturing and service are
changing drastically, Tanaka Seisakusho will continue to strive for business
continuity and further development with the spirit of TNK spirits.
We sincerely ask for your long-term relationship.
Tanaka Seisakusho Co.,Ltd
CEO Yu Kawashima
Company Profile
Company name
TANAKA SEISAKUSHO Co.,Ltd
Description of business

Various chip conveyors
Machine tool peripheral equipment
Environment related business unit
(water treatment, coagulation filtration)

Founded
July 1952
Capital
50 million yen
Officers
CEO Yu Kawashima
Executive chairman Toshiaki Tanaka
Executive Managing Director Naoko Kawashima
Location
【Head Office】
422-9 Kashiwagaya, Ebina, Kanagawa Pref. 243-0402
TEL  +81-46-231-5258 (Main)
FAX  +81-46-232-8208
【Second Plant】
421 Kashiwagaya, Ebina, Kanagawa Pref.
Number of employees
70employees
Main creditor banks
Resona Bank
Kiraboshi Bank
The Johnan Shinkin Bank
The Shoko Chukin Bank
Main Purchasers
AMADA MACHINE TOOLS EGURO LTD. ENSHU Limited. O-M Ltd.
Okuma Corporation. Kanzaki Kokyukoki Mfg.Co.,Ltd. KIRA CORPORATION
KOYAMA CO.,LTD. SHIN NIPPON KOKI CO.,LTD.
SAN-AI ECO SYSTEM CO.,LTD. SANZE KIKAI Co.,Ltd.
Shimada Machinery Co.,Ltd. Sugino Mchine Limited
TAKAHASHI MACHINERY CO.,LTD. TSUGAMI CORPORATION
DMG MORI CO., LTD. TOSHIBA MACHINE CO., LTD
TOYO SEIKI KOGYO CO.,LTD FUJISEIKI CO.,LTD
MAKINO MILLING MACHINE CO.,LTD. MAKINO J Co.,Ltd.
Mitsui Seiki Kogyo Co., Ltd. MURATA MACHINERY,LTD. YAMAZAKI Co.,Ltd.
KYOWAKOKI Co.,Ltd. SANRITSU KOSAN CO.,LTD. Tokai Okaya Kizai Co.,Ltd.
Toyo Corporation Tomita Co., Ltd. NIKKO INDUSTRY CO.,LTD.
MITSUI & CO. MACHINE TECH LTD. YAMAZEN CORPORATION.
ANTEX CORPORATION Isuzu Motors Limited OGURA CLUTCH CO.,LTD. JATCO Ltd DENSO CORPORATION.
TOPY INDUSTRIES LIMITED.
Hitachi, Ltd. Mitsubishi Hitachi Power Systems,Ltd.
Mitsubishi Fuso Truck and Bus Corporation Yamaha Motor Co., Ltd.

Corporate philosophy
Business creeds
True is the basis of everything
Management philosophy
一、All businesses flower on credit
一、Realizing a better society by pursuing better products and services
一、The source of business development lies in people.Strive to create the best environment for people to work with
Behavioral guidelines
TNK Spirits
Trust is first.
Necessary existence from society.
Kind to employees ,customers, society.
Access
■ Location of our company